Publication
May 30, 2019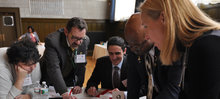 A more regional approach to care is needed – one that involves coordinated, person-centered healthcare with robust connections to social services and community resources. An innovative infrastructure to do just that is underway in four communities across New Jersey: Trenton, Camden, Newark, and Paterson. Efforts begun in 2011 under New Jersey's Medicaid Accountable Care Organization (ACO) Demonstration Project have evolved into four regional collaboratives that integrate, coordinate, and align all the disconnected programs aimed at making communities healthier.
Topics:
Data sharing, East Coast, Health, Partnerships

Shared by
Housing Is
on
Jun 13, 2019
Publication
The Home Preservation Initiative (HPI) for Healthy Living seeks to improve asthma outcomes related to unhealthy housing in five neighborhoods in West Philadelphia. By combining home repairs and community health worker home visits, HPI aims to significantly reduce emergency department visits and hospitalizations due to pediatric asthma. For these primarily African-American communities, substandard housing, unemployment, low wages and a lack of education are barriers to the overall health and well-being of residents. Using outcome data, the collaboration will show health care cost savings,...
Topics:
Asthma, Cost effectiveness, Data sharing, East Coast, Health, Low-income, Medicaid / Medicare, Partnerships, Racial inequalities, Research

Shared by
Housing Is
on
Mar 19, 2019