News Article
Jan 23, 2019
On Wednesday afternoon, Durant — back home as Golden State prepared to play the Washington Wizards on Thursday night — made his way southeast, back to the old neighborhood, to appear at the grand opening of College Track at the Durant Center, whose location the Suitland native selected largely because it's next door to that familiar McDonald's. The after-school program, whose inaugural class includes 69 students largely from low-income families, provides study space and guidance not only through college enrollment but through graduation.
Topics:
East Coast, Funding, Low-income, Out-of-school time, Place-based, Post-secondary, Youth

Shared by
Mica O'Brien
on
Jan 24, 2019
Report
Jan 7, 2019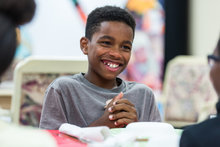 When the school day ends, far too many children return home to empty refrigerators and bare cupboards. The federal Afterschool Nutrition Programs provide healthy meals and snacks to children to ensure they are fed after school (and on weekends and during school holidays). According to FRAC's latest Afterschool Suppers: A Snapshot of Participation report, the District of Columbia had the highest participation in the nation of children in the Afterschool Supper Program, with a 31.6 percent increase in participation between October 2016 and October 2017.
Topics:
Child welfare, East Coast, Education, Food insecurity, Health, Low-income, Nutrition, Out-of-school time

Shared by
Housing Is
on
Jan 16, 2019
News Article
Dec 11, 2017
Topics:
Attendance, Child welfare, East Coast, Education, Grade-level proficiency, Homelessness, Housing, Legislation & Policy, Low-income, Metrics, Out-of-school time, Racial inequalities, Research, School-readiness, Stability, Youth

Shared by
Housing Is
on
Jul 5, 2018