News Article
Jan 8, 2019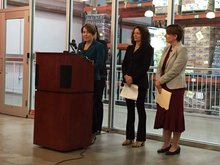 Massachusetts Attorney General Maura Healey on Tuesday announced $3 million in grants to 13 community organizations that address things like housing, hunger and other societal factors that affect someone's health.
Topics:
East Coast, Food insecurity, Health, Housing, Low-income, Nutrition, Partnerships, Preventative care

Shared by
Housing Is
on
Jan 16, 2019
Case study
Oct 31, 2018
To encourage architects and planners to design built environments that promote physical activity, New York City offers an "active design" building incentive within the Leadership in Energy and Environmental Design (LEED) standards. The Centers for Disease Control and Prevention (CDC) recommends that adults ages 18 to 65 engage in 150 minutes of moderate-intensity physical activity (MPA) or 75 minutes of vigorous physical activity (VPA) per week to reduce risk of disease and promote a healthy lifestyle, but in 2011, only 20 percent of Americans met these goals. Active design interventions...
Topics:
East Coast, Exercise, Health, Housing, Low-income, Place-based, Preventative care, Research

Shared by
Mica O'Brien
on
Nov 1, 2018
Case study
Jul 12, 2018
In Boston, Massachusetts, the Boston Housing Authority, Boston Public Health Commission, the city's Inspectional Services Department, the Boston Foundation, and local universities and medical institutions have come together over the last decade-plus to address the intersection of health and housing. Motivated by a desire to improve the lives of Boston's most vulnerable residents, these organizations began collaborating to address asthma and, more recently, to prioritize housing and health needs for pregnant women. By bridging anchor institutions, foundations, and city agencies around health...
Topics:
Asthma, Child welfare, Dual-generation, Early childhood, East Coast, Exercise, Family engagement, Funding, Health, Home visiting, Homelessness, Housing, Low-income, Medicaid / Medicare, Nutrition, Obesity, Partnerships, Pre-natal, Preventative care, Research, Smoke-free

Shared by
Housing Is
on
Jul 12, 2018