News Article
Mar 19, 2019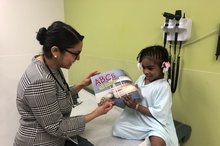 For 17 years, physicians, nurse practitioners and pediatric residents at our hospital, and presently, at more than 80 locations throughout the region, have been participating in Reach Out and Read of Greater Philadelphia (www.reachoutandreadphilly.org), a simple yet profound way to harness the power of a book to potentially alter a child's health trajectory.
Topics:
Early childhood, East Coast, Education, Grade-level proficiency, Health, Literacy, Low-income

Shared by
Housing Is
on
Apr 18, 2019
Interactive
Sep 18, 2018
Understanding the characteristics of infants and toddlers in our states and communities is an important first step for supporting children's development during their most critical years. Making more detailed and comprehensive information available on the young children living in different communities can help stakeholders more strategically develop and target key services such as child care, home visiting, or other services for young children. For example, knowing how many young children live in low-income families and what share have parents working full time can help states and localities...
Topics:
Early childhood, East Coast, Health, Legislation & Policy, Midwest, South, West Coast

Shared by
Mica O'Brien
on
Sep 18, 2018
Case study
Jul 12, 2018
In Boston, Massachusetts, the Boston Housing Authority, Boston Public Health Commission, the city's Inspectional Services Department, the Boston Foundation, and local universities and medical institutions have come together over the last decade-plus to address the intersection of health and housing. Motivated by a desire to improve the lives of Boston's most vulnerable residents, these organizations began collaborating to address asthma and, more recently, to prioritize housing and health needs for pregnant women. By bridging anchor institutions, foundations, and city agencies around health...
Topics:
Asthma, Child welfare, Dual-generation, Early childhood, East Coast, Exercise, Family engagement, Funding, Health, Home visiting, Homelessness, Housing, Low-income, Medicaid / Medicare, Nutrition, Obesity, Partnerships, Pre-natal, Preventative care, Research, Smoke-free

Shared by
Housing Is
on
Jul 12, 2018
News Article
Jan 25, 2017
A reading program designed to help men become better fathers is associated with better parenting skills as well as behavior and learning improvements in kids, a small study suggests.
Topics:
Early childhood, East Coast, Education, Family engagement, Literacy, School-readiness

Shared by
Abra Lyons-Warren
on
Feb 6, 2017