News Article
Dec 14, 2018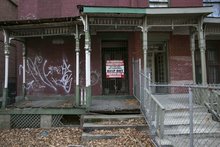 Opportunity zones are home to approximately 35 million Americans. It is estimated that the opportunity-zone designation could attract $100 billion in private investment in these areas, which would go a long way to spurring economic development and creating jobs.
Topics:
Community development, Legislation & Policy, Partnerships, Place-based, Racial inequalities, RAD

Shared by
Mica O'Brien
on
Dec 17, 2018
Research
Jul 19, 2018
The link between federal housing policy and public health has been understood since the nineteenth century, when housing activists first sought to abolish slums and create healthful environments. This article describes how the Obama administration—building on these efforts and those that followed, including the Great Society programs of President Lyndon Johnson—has adopted a cross-sector approach that takes health considerations into account when formulating housing and community development policy. The federal Department of Housing and Urban Development fully embraces this "health in all...
Topics:
Affordable Care Act, Community development, Disabilities, Health, Healthy homes, Housing, Legislation & Policy, Low-income, Mobility, Partnerships, Place-based, RAD, Research

Shared by
Housing Is
on
Jul 19, 2018