Publication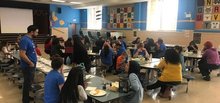 Houston children continue to be poisoned by lead even though childhood lead poisoning is considered the most preventable environmental disease among young children. In the past three years, almost 1,200 Houston children between 0 and 72 months old were found to have lead in their blood above the reference value of concern set by Centers for Disease Control and Prevention. The Houston Health Department (HHD) has hosted the Lead-Based Paint Hazard Control Program (LBPHCP) for over 25 years, with the goal of providing a lead-safe home environment through home investigations and home lead...
Topics:
Early childhood, Health, Housing, Lead, Partnerships, Safety

Shared by
Housing Is
on
Apr 8, 2019
Policy Brief
Jul 10, 2018
Children's HealthWatch's brief "asks two straightforward questions: If health starts at home, what are the healthcare and educational costs of unstable housing? Which policy solutions could create stable homes for healthier families?"
Topics:
Asthma, Child welfare, Dental, Early childhood, Education, Foster care, Grade-level proficiency, Health, Healthy homes, Housing, Lead, Literacy, Low-income, Medicaid / Medicare, Obesity, Partnerships, Pre-natal, Preventative care, Racial inequalities, School-readiness, Stability, Vision, Youth

Shared by
Steve Lucas
on
Jul 10, 2018